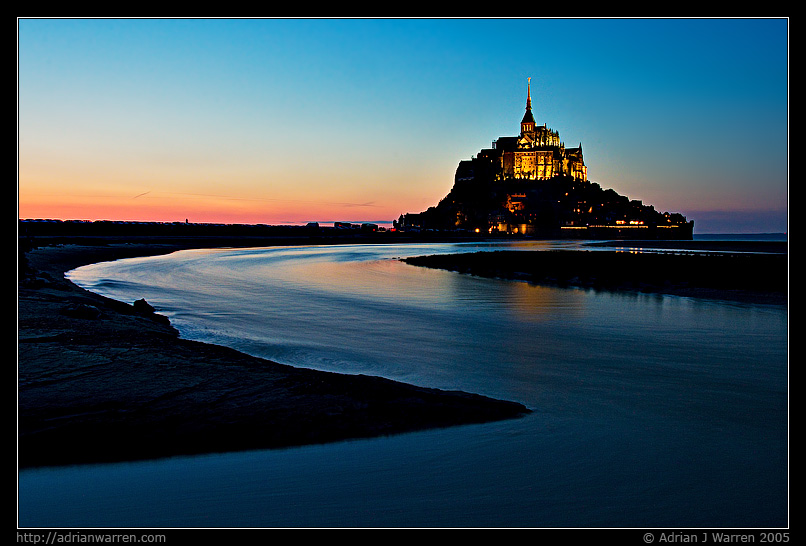 Mont Saint-Michel

One of the most beautiful places in France, without a doubt, impressive when you consider just how many wonders - both man-made and natural - the country has to offer. It's been rightfully listed as a UNESCO World Heritage site.

The first church was founded on the island back in 709, although little of that building remains. Since then there's been a religious presence on the island, and it has been a place of pilgrimage - previously of religion, latterly of tourists ;)

Oddly it was converted into a prison after the French Revolution - and only reconverted again at the end of the 19th century.

Although the buildings are impressive, my strongest memory of the place will be the tides. This shot was taken just a few minutes after the tide had started to rise, during which time the water had already risen several inches. About ten minutes after I took this shot this spot was totally submerged! The water actually comes up as a visible and audible wave. Let's just say there's a very good reason why there's a tidal power station just along the bay...

Interestingly the same group of monks went on to form another St Michael's Mount in Cornwall - more on that here

The Official Tourism Website of Mont Saint-Michel contains more information in a variety of languages too :)

Tech:
Canon EOS 10d
Canon 17-40 f4/L USM
Gitzo 2228/Manfrotto 486RC2
RAW: ISO100



All content, including code, text and images is © copyright Adrian J Warren 2001-2008, unauthorised reproduction is prohibited.