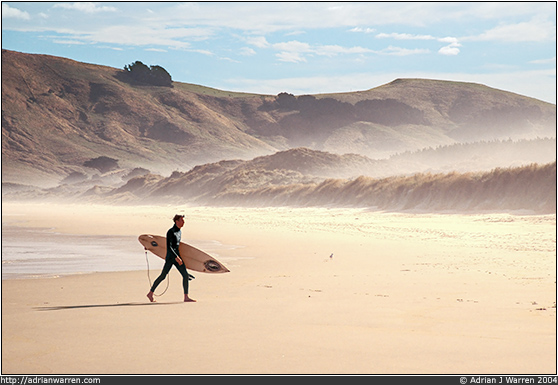 Allans Beach is situated on the Otago Peninsula, near Dunedin. The region is most famous for its wildlife - penguins and albatrosses are the main attractions of the area. As you know penguins are creatures of the antarctic region, which should give you an idea of the temperature of the sea here :)

I went for a walk to see if I could spot some wildlife, but before I could see anything else I spotted this lone surfer coming back in from the waves. I love the misty feeling evoked by the harsh light and the spray...

If you like this shot, you can now buy prints of it here!



Tech:
Canon EOS 30
Canon 200 f2.8 L II USM
Fuji Provia 100F



All content, including code, text and images is © copyright Adrian J Warren 2001-2008, unauthorised reproduction is prohibited.