CompactDrive PD70X portable storage device review
1: Introduction and specifications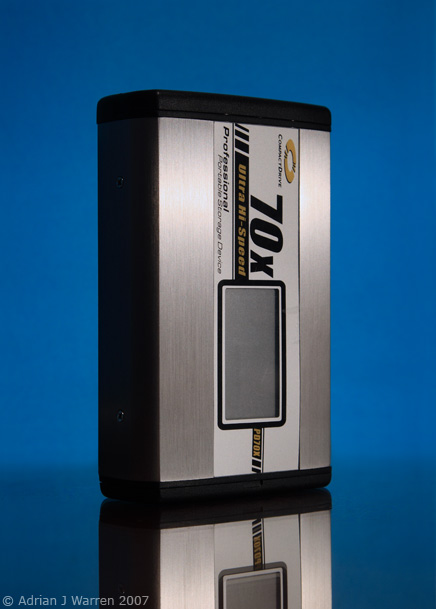 Have you ever run out of memory cards at an inconvenient time, or sat there wondering how you're going to store all the photographs you're planning to take whilst you're away from your computer? Sure, you could buy a bucket load of cards, and to be honest, if you're not shooting RAW or planning to be away for a long time, that may indeed be the best option given the prices of cards at the moment. But what if you're planning a long trip, and/or planning to shoot a lot? Well, that's where a standalone portable hard disk comes in.
The concept is simple enough; take a laptop hard disk, and add a battery and memory card interfaces. This gives you the ability transfer images from a card to the hard disk, without needing to use a computer - just insert the card, turn it on, and copy the files.
There are two main types of standalone portable hard disks, those with large colour screens, and those without. Large colour screens look nice, no question there, but they add significantly to the cost of the device, and they also reduce battery life because they draw a lot of power. Of those without colour screens the CompactDrive PD70X stands out due to its robust design, use of AA batteries, and high performance. Note, in some markets the same product is branded as the HyperDrive HD80.
CompactDrive PD70X specifications
Street price (no HDD)
UK: 78GBP (inc VAT); based on US price (120USD) + tax + import duty
Supported HDD type
2.5" PATA HDD (9.5mm thick)
HDD format
FAT32
Supported card formats
FAT12/FAT16/FAT32
Interfaces
Compact Flash type I/II - Tested
Microdrive compatible
SD/MMC
MemoryStick/MemoryStickPro
xD **testing suggests Type-H is not compatible
USB 2.0 High Speed - Tested
Size
133mm x 85mm x 33mm (measured: no case)
Body material
Aluminium
Display
Custom mono LCD
Weight
337g measured (inc Toshiba 120Gb HDD: MK1234GAX), no batteries
Total travel weight
568g measured (inc HDD, PSU and 4x AA 2100mAh Hybrio)
Supplied batteries
None
Package contents
USB cable
12V Car-adapter
AC adapter (international)
Nylon case
Screwdriver
Manual

Optional extras
Via adapter, supports: miniSD, RS-MMC, MS Duo, MS Pro Duo, Transflash
Batteries
Supported OSes
Plug'n'play under: Windows Vista/XP/2000/ME (tested under Vista), and OSX/MacOS 9.x
Requires drivers under: Windows 98SE Linux
Manufacturer's website
www.3hdigital.com
---