CompactDrive PD70X portable storage device review
2: First impressions

Packaging
The CompactDrive PD70X comes in a full colour, glossy finish cardboard box.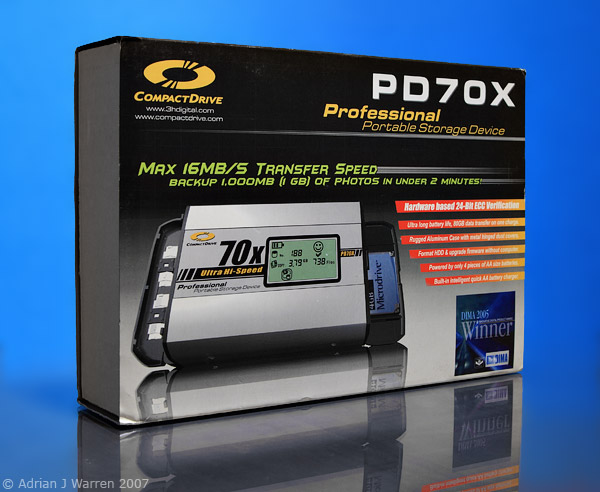 Box contents
Inside the box you'll find the PD70X itself, a manual, a nylon carry case, a small screwdriver, a mains adapter (mine was supplied with an international PSU, with fitted European plug), a car socket adapter, and a USB cable.
Look and feel
The housing is made from brushed aluminium, and it feels well made. In general it manages to look rugged, and somewhat industrial.
User interface


The first thing that strikes you about the PD70X is that there are no controls visible. No, it doesn't work via telepathy; instead the card slots and controls are safely concealed behind plastic doors, which is useful when the device is bouncing around inside your camera bag.
At this point I'm going to admit that I'm not a big fan of the user interface on the PD70X. All the functions are accessed via a three-way control; you can rotate it clockwise, anti-clockwise or push it. That's the good news; the bad news is that everything on screen is representented by a selection of slightly cryptic icons.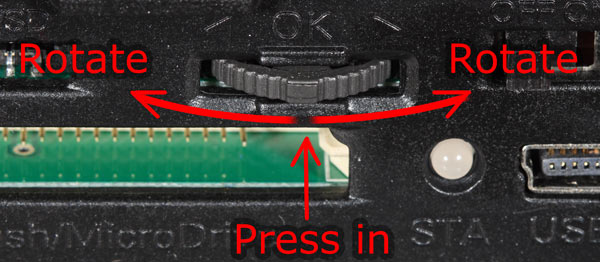 Unfortunately the cryptic approach continues when problems occur, fortunately some of the error messages are printed on the inside of the CF slot door. Unfortunately the list isn't exhaustive, which means carrying the manual at all times is a good idea.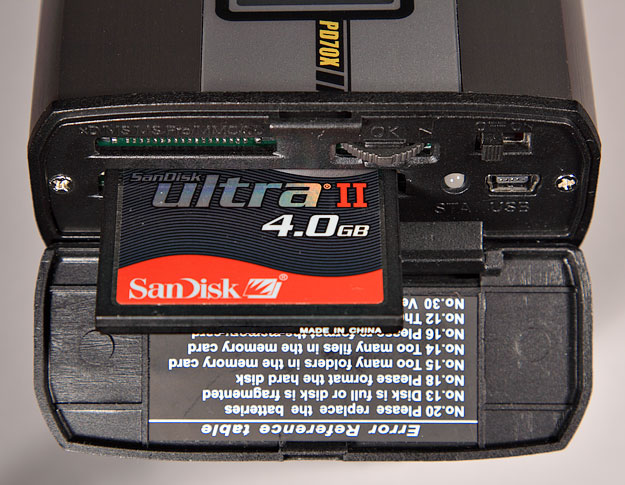 The mono LCD has a reasonable viewing angle, which makes it relatively easy to read in good lighting; unfortunately the lack of any form of backlighting makes it very difficult to use in the dark or in low light conditions.

Documentation
The manual is well written, well printed, and has plenty of black and white illustrations too.
Size


The whole reason these devices exist is to give an alternative between carrying hundreds of gigabytes of cards, which is expensive, and carrying a laptop which is usually bulky and heavy.
Here's an image showing how the size of the PD70X stacks up against a Dell Latitude D600, a fairly typical corporate 14.1" laptop: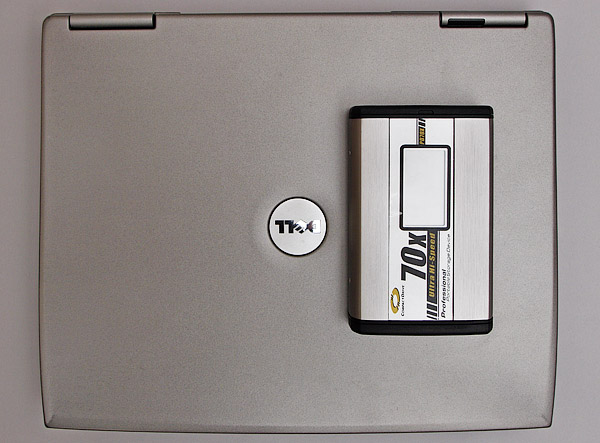 As you can see the PD70X is very small by comparison.
---